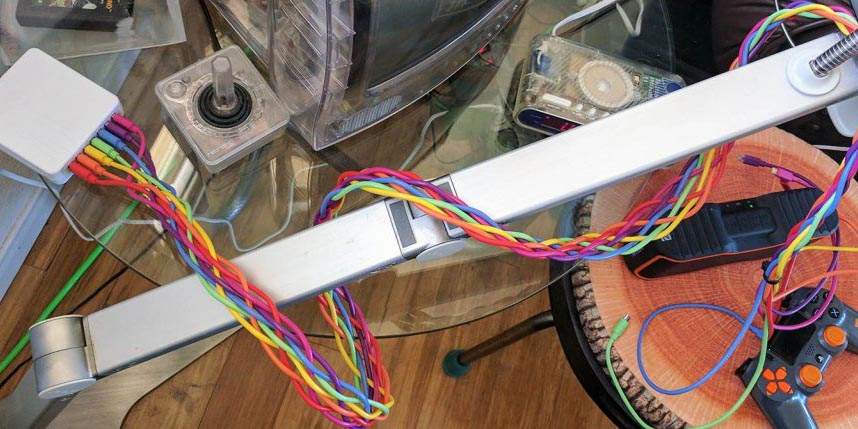 Crafting a Companion Cube Cutting Board


 


When Tyler Winegarner's friends sent him a wedding invitation that made several references to Portal, he knew he had to build them a gift that made tribute to the video game. So he carved a maple cutting board with a walnut inlay of the game's Companion Cube. Check out how he made it!  
 
 
Get Charged Up with New Humble Bundle


 


In just two years time, we've been able to raise some $500,000 for the Maker Education Initiative through ebook sales with Humble Bundle. Because that's how good the books are. Our latest Electronics + Programming ebook collection just dropped. See what's there.
 
 
3D Print This Mesmerizing Kinetic Wave Machine


 


This wave machine will have you hypnotized in a matter of moments. Although such machines are common enough, this unique piece of kinetic art is the product of both CNC machining and 3D printing. Watch the video of how it was made and then try it yourself.  
 
 
Create an Image of Mars with Sheets of Rusted Metal


 


Mars is as red as it is because its surface is covered in rust. So it's only fitting that Barry Abrams recreation of the planet would be printed on selectively rusted sheets of metal. Learn how this part-time screen printer did it, and then make your own.  
 
 
Teenager Documents His Projects on "Make With Miles"


 


Miles is a 13-year-old maker who likes working in leather and fabric, crafting rubber stamps, building boats, and making improvements to his family's workshop. He documents his work in simple to follow steps, and posts his projects on YouTube. You'll definitely want to watch one or two (or three) of his videos.  
 
 
$2 Tabletop Gaming Reaching Tool for Minis


 


Anyone who's played a tabletop game that's spread over a large area, or tried to retrieve a miniature from a gaming table surrounded by dozens of players, will instantly understand the utility of this device. Learn how to craft your own before your next game night.  
 
 
More from Make:


 


World Maker Faire will soon have the New York Hall of Science overflowing with incredible sights and sounds. One of our favorite things to see are the items that put things in motion, from kinetic art that interacts with people to drone fighting. You'll definitely want to check them out.

If you're looking to create a prototype or product in a cost effective and timely manner, one great option to consider is CNC machining. These tips will help you optimize and improve on your design for the best results at the lowest cost. 
 
Maker Media, Inc | 1700 Montgomery St, Suite 240 | San Francisco, CA 94111
Having trouble viewing this email? View it online.
If you got this from a friend, join us here.
Thanks to our sponsors for making newsletters possible. If you'd like to advertise, learn more here.